Saturday, June 30, 2018 - 20:00
A unique dining event created by Chef Grace Odogbili
The evening is Driven by Conversation and Enhanced by Inspired Cuisine.
Let's meet around the table!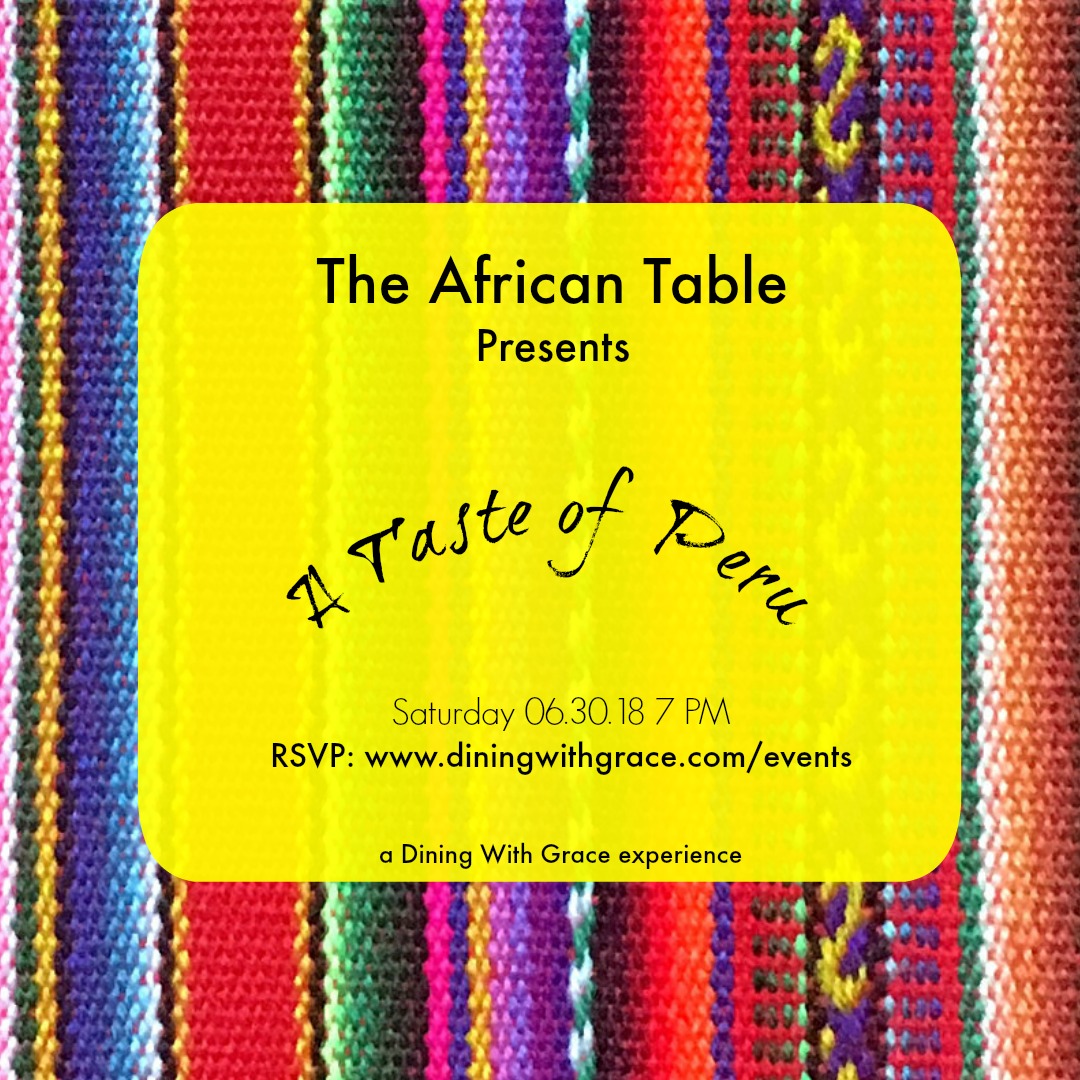 We will be featuring a tasting of Afro-Peruvian cusine.  
Sample Featured Menu:
Seafood Ceviche in Passionfruit Lime Vinaigrette w/ Tostones
Aji de Gallina (Chicken Curry) Dumplings
Salmon w/ Salsa Criolla  and Tacu Tacu (Fried Sticky Rice), Sliced Avocado
Chef's Vegan Surprise Dish
Chef's Dessert
Featured Beverage: Tangerine-Cardamom Spritzer
Music set to an Afro-Peruvian playlist
Location:  Dining With Grace- Private Dining Room
(Location may change given RSVP count but will remain in convenient vicinity)
Chef's Menu will be Inspired and will be presented at the table.  If you have any dietary restrictions please send note with inquiries.  This is not a vegan/vegetarian/pescatarian event but some dishes may be modified.
Chef Grace's culinary style is inspired by African diasporan cuisine.
Grace is  Chef/Owner of Dining With Grace Catering www.diningwithgrace.com
Chef Ambassador of Heaven's Kitchen Meal Kits www.heavenskitchen1.com
And the creator of The African Table Culinary Adventures.  Join us in Tanzania this October 11-21 at www.diningwithgrace.com/travel
Your Venue Location on Google Map