Wednesday, November 6, 2019 - 18:00
Essex Market, 2nd Floor Mezzanine
88 Essex Street
New York
NY
10002
US
West Africa Cooks are listing this event called American Food: A Not-So-Serious History on 2019-11-06 18:00:00

On November 6, meet food writer and journalist Rachel Wharton and illustrator Kimberly Ellen Hall, who will be also selling and signing their new book American Food: A Not-So-Serious History in Essex Street Market's beautiful new event space. (You can also say hi in Philly at Head house Books on Oct. 29; and in Manhattan's Union Square Greenmarket on November 23.)
This gathering is co-sponsored by Essex Market vendor Sugar Sweet Sunshine, who will be supplying us with pineapple upside-down cake featured in the "U" chapter of the book, which is organized from A to Z. Come early, if you want cake.... it'll go fast... and possibly surprise guest appearances from other foods in the book, like the Red's Hoagie with Pepper Seed (aka a Big Party Sandwich) or maybe some orange juliuses, if we can get our hands on a blender. 

More about the book: Each chapter delves into the history of a classic dish, drink, icon or ingredient. From Blueberries and Fortune Cookies, to Pepperoni, Hot Wings, Shrimp and Grits, Queso, Fried Clams, Lunch Boxes, the White Russian and yes, even Xanthan Gum, read about their rich and complex back stories that are often hidden in plain sight, lost to urban myth and misinformation. 
You can ask the authors:

+ How the idea for the original Buffalo wing likely came from an African American, at a time when black restaurants were never covered by the mainstream press 
+ Why the poets and passionate collectors who hang on to old metal lunchboxes are just as cool as the artifacts themselves

+ Why New Mexican green and red chile enchiladas aren't Mexican but native American, and one of the United States' first iconic dishes

+ How the hero, hoagie and submarine sandwich spread along the eastern seaboard with Italian longshoremen and black jazz players

+ How fortune cookie history lives on in a 70-year-old set of steam ovens you can walk up and touch in San Francisco, but can't be separated from the internment of Japanese Americans in WWII

+ How queso is not an American creation but a Mexican one, in part because South Texas used to be Mexico

+How climate change is slowly claiming Massachusetts' famous Ipswich clam 
+ How Orange Julius was the original Ray Kroc

+ Why Monterey Jack might save one of the last small dairy farms in the big ag belt of California's Central Coast

+ How xanthan gum was created in the 1950s by Allene Jeanes, one of the country's first women to earn a medal of science from the government

+ How ambrosia likely wouldn't exist without an enslaved North Carolina cook named Ellen who had to cook for the head of the Confederacy

+ How shrimp and grits is not a Charleston dish but one from the Gullah-Geechee people of the barrier islands of the Lowcountry

+ Why pepperoni gets a bad rap from Italian-American food snobs

+ How James Beard gets credit for zucchini bread, but the 1970s ladies of Portland, Oregon might deserve it more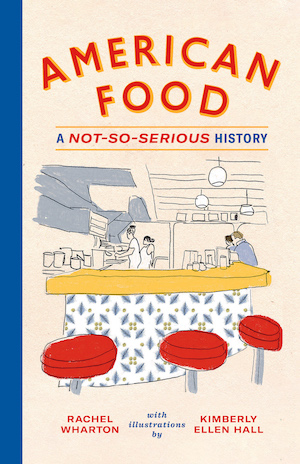 Your Venue Location On Google Map



Your map address 88 Essex Street, New York, NY 10002.
Your Google zip or post code look up is 10002





For more on American Food: A Not-So-Serious History visit Eventbrite.



image_url:
https://img.evbuc.com/https%3A%2F%2Fcdn.evbuc.com%2Fimages%2F78089317%2F4177877852%2F1%2Foriginal.20191024-164909?h=200&w=450&auto=compress&rect=90%2C3%2C850%2C425&s=f42c7b2ca49497ac5ec54b8874b05373