Saturday, December 7, 2019 - 18:00
New Leaf Community Markets
1101 Fair Avenue
Santa Cruz
CA
95060
US
West Africa Cooks are listing this event called Mediterranean Cooking: Barcelona on 2019-12-07 18:00:00

With Chef Laura Casasayas-Pala
Summer nights in Barcelona are known for casual dinners, good conversation and flowing wine.
Mediterranean cuisine, and ingredients found in the Mediterranean Diet, are based on a wide variety of foods found in a number of countries in this area: France, Spain, Italy, Greece, and Portugal along the north; Turkey, Syria, Lebanon, and Israel on the east; and the African countries of Egypt, Libya, Algeria, Morocco, and Tunisia on the south.  Barcelona is one of the culinary power houses of Mediterranean cuisine.

The combination of these food items and the many ways they're prepared specific to the region they come from, is at the heart of what makes Mediterranean cuisine so very unique and flavorful.  An added bonus is that many Mediterranean cuisine not only tastes good- it is good for you!
Join us for a culinary night to the Mediterranean to explore a variety of delicious dishes coming from the cosmopolitan and foodie city of Barcelona.
In this class we will make:



Xato Salad




Creamy Spinach Caneloni with Bechamel Sauce




Dates with Pomegranate Tea Cake



This meal will be paired with two wines relative to this area.

About the Instructor:
Laura Casasayas was born in Catalonian, Spain and raised around food, stories and traditional cooking. Her grandmother taught her the magic of what ingredients make a delicious, nutritious homemade Spanish dish. Laura is a Spanish Acupuncturist, Dietitian and creator of the 11th Hour Coffee food menu. Laura has more than 10 years running her own practice in Spain. she Recently moved to Santa Cruz and has a very strong desire to keep educating and expanding awareness in mindful and healthy eating.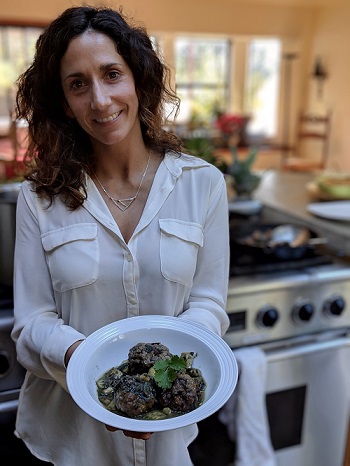 Your Venue Location On Google Map



Your map address 1101 Fair Avenue, Santa Cruz, CA 95060.
Your Google zip or post code look up is 95060





For more on Mediterranean Cooking: Barcelona visit Eventbrite.